Date: 26th August, 2000
Location: Hasselt, Limburg, Belgium
Venue: Kempische Steenweg
Festival: Pukkelpop
Stage: Main Stage
Tour: Europe
Show #: 6 of 12
Other Bands: Cypress Hill, *,
Setlist:
01. Show Me What You Got
02. Break Stuff
03. 9 Teen 90 Nine
04. Faith (George Michael cover)
05. Re-Arranged
06. Just Like This
07. Covers medley
08. Master Of Puppets (Metallica cover)
09. Jump Around (House Of Pain cover)
10. Nookie
11. Take A Look Around
Source 1: Audio – AUD (Sony ECM-717 > Sony MZ-R70)
Taper: Unknown
Time: 51:14 mins
Format: lossless
Comments: Uncirculated.
Source 2: Video – AUD (Unknown)
Taper: Unknown
Time: 26:38 mins
Format: DVD M
Comments: Obstructed. Incomplete, parts of 'Break Stuff', '9 Teen 90 Nine', 'Jump Around', 'Nookie' and 'Take A Look Around' as well as 'Faith', 'Re-Arranged', 'Blind' and 'Bombtrack' full. Shared on YouTube by the taper in 2017, DVD transfer is uncirculated.
Show Notes:
– The band did a short covers medley playing intros of 'Blind' by KoRn and 'Bombtrack' by Rage Against The Machine before John and Wes played 'Master Of Puppets' by Metallica.
Other Notes:
– This was the first time that the band played at Pukkelpop.
Pictures (click to enhance):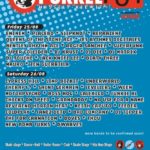 Videos: