Date: 10th June, 2014
Location: Haarlem, Noord-Holland, Netherlands
Venue: Patronaat
Tour: Europe Summer Tour 2014
Show #: 4 of 21
Other Bands: None.
Setlist:
01. Pollution
02. Rollin' (Air Raid Vehicle)
03. Counterfeit
04. Stuck
05. 9 Teen 90 Nine
06. Boiler
07. It'll Be OK
08. The Truth
09. Nookie
10. Endless Slaughter
11. Hot Dog
12. Gold Cobra
13. Welcome To The Jungle (Guns 'N' Roses cover)
14. My Generation
15. My Way
16. Take A Look Around
17. Break Stuff
Source 1: Audio – AUD (SP-CMC-19 (cards) > iRiver H320 (rockbox, CF mod) (Center Angle)
Taper: nowfacethetruth
Time: 101 mins
Format: lossless
Comments: Taped from right behind the soundboard.
Source 2: Video – AUD (Panasonic HC-V700) (Center Angle)
Taper: nowfacethetruth
Time: 98 mins
Format: BluRay
Comments: Cut between 'My Way' and the Intro of 'Take A Look Around'.
Show Notes:
– This show had a special setlist and after asking Fred after the show in Zwolle the following day we found that he did check the poll we did here and decided to make the setlist with Wes, thanks go out to all fans for voting and to the band for taking time and even doing a setlist with the top requests!
– 'Stalemate' was on the setlist too but dropped during the show.
– 'Counterfeit' was played in it's entirety for the first time since Copenhagen 2010.09.26 show where they played it with supporting band The Blackout, but it was the first time since Moscow 2009.05.29 that the entire song was done without any guests.
– Fred got a fan called Rob on stage to let him do the vocals of Stuck from the bridge until the end.
– Wes jammed the verse riff of 'Hot Dog' before the In Da Club Interlude was played for someone's birthday. Wes also jammed small portions of 'Wicked' by Ice Cube and 'South Of Heaven' by Slayer.
– The first part of Endless Slaughter was spontaneously played with Fred going through the crowd and Paris Visone (their videographer on tour at that time) filming footage for the official video of the first of four parts of the song. He ran through the crowd while the first part of the song was played over the PA.
Other Notes:
– Sold out show. Attendance was 920 people.
– During the show day, the band announced on their Facebook site that they would play an old school setlist at this show.
Pictures (click to enhance):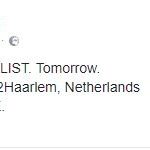 Videos: