Date: 12th October, 2014
Location: Silver Spring, Maryland, USA
Venue: The Fillmore
Tour: No Class US Tour
Show #: 21 of 21
Other Bands: *, Machine Gun Kelly, Blvck Ceiling
Setlist:
01. Ready To Go
02. Thieves (Ministry cover)
03. Rollin' (Air Raid Vehicle)
04. Hot Dog
05. Counterfeit / Pollution
06. My Generation
07. Livin' It Up
08. Gold Cobra
09. My Way
10. Re-Arranged
11. Killing In The Name (Rage Against The Machine cover)
12. Faith (George Michael cover)
13. Nookie
14. Full Nelson
15. Take A Look Around
16. Break Stuff
Show Notes:
– Machine Gun Kelly joined the band for 'Hot Dog'.
– 'Counterfeit' and 'Pollution' were played as a medley and both songs were played until the first chorus. Wes's guitar had a problem during the intro kick in of 'Counterfeit'.
– 'Nookie' has been played until the second chorus and went right into 'Full Nelson'.
Pictures (click to enhance):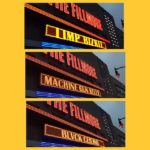 Video: