Date: 11th August, 2022
Location: Bratislava, Bratislava, Slovakia
Venue: AXA Aréna NTC
Tour: Europe
Show #: 11 of 27
Other Bands: *, Wargasm UK
CANCELLED
Other Notes:
– The European Tour 2022 was cancelled/postponed on July 17th due to Fred suffering from health issues. He posted the following statement and a video on the band's website which you can check out below:
"For personal health concerns and based on medical advice given by my personal physician to take an immediate break from touring, Limp Bizkit will sadly have to postpone their 2022 Uk and European tour. We truly apologise for any inconvenience this may cause to our loyal fans, promoters and support staff. Stand by for further news.
Sincerely, Fred & Limp Bizkit"
– Tickets purchased for the shows in 2020 or 2021 were valid for this show until the postponement was announced.
– This show was not rescheduled. Ticket returns were available at points of purchase.
Pictures (click to enhance):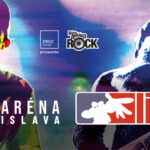 Video: