Date: 02nd September, 2022
Location: Tilburg, Noord-Brabant, Netherlands
Venue: Poppodium 013
Tour: Europe
Show #: 22 of 27
Other Bands: *, Wargasm UK
CANCELLED
Other Notes:
– This show was originally rescheduled to July 30th but later moved to September 02nd due to the shows in Finland getting added.
– Tickets purchased for the shows in 2020 or 2021 were valid for this show until the postponement was announced.
– This show is rescheduled to take place on April 09th, 2023. Tickets purchased for this show and the shows in 2021 and 2020 are valid for the new date.
Pictures (click to enhance):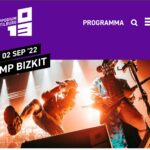 Video: