Wes went live on Instagram with Daniel P. Carter, host of BBC Radio 1, yesterday! They talked for almost 75 minutes, where Wes revealed new info involving all his projects including "The Demos" by Eat The Day, the upcoming Goatslayer releases, Black Light Burns, Big Dumb Face, his solo album and of course the new Limp Bizkit album! You can hear our rip of the stream below and here is our transscript:
His plans right now:
– in Detroit for plans to move out the house, but stuck now, so he works in the studio
– if quarantine keeps going on and on, recording tracks and releasing them is his plan to go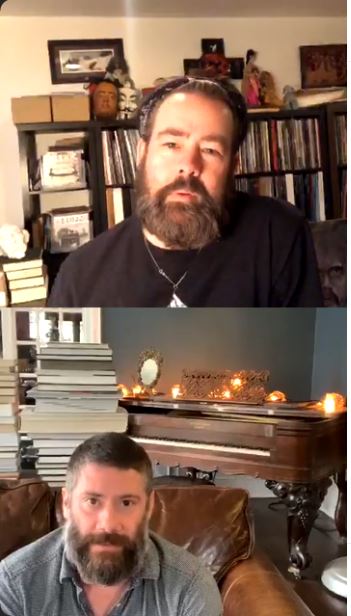 Eat The Day:
– he is happy about the positive feedback; album was really important for the entire band
– "The Demos" was only mastered, no re-recording
– they were written and recorded in a band rehearsal room on Hollywood Blvd, right across scientology center, not in studio
– the name "The Demos" because not properly recorded in a studio
– after he left LB in 2001 Interscope retained Wes as artist, put him on development deal
– Interscope wanted him to do a new kind of Limp Bizkit record because at the time he left LB with no intention to return
– two great vocalists were selected at the time and recorded their vocals over some tracks and he and his brother Scott tried to vocals for the Eat The Day album too
– Interscope said they didn't like the Eat The Day tracks over multiple times back then because they preferred a rap-rock sound
– Wes got the tip that no vocals were needed a few years ago by a producer who also produced A Perfect Circle
– five more songs of Eat The Day exist – they are searching for them on their archives – may or may not be released as an EP if they find them
– both label not wanting to do the record the way the band wanted and no vocalist led to eat the day not continuing
– the name Eat The Day came from the name of one of his brother Scott's synthesizers
Solo albums:
– The Astral Hand will probably be about 9 songs – 2 songs were released as the Matadors and Daughters EP in 2018 to promote the performance at Moogfest
– Rules for Crystal Machete and The Astral Hand: no distorted guitar, no help from anyone else, no effected vocals
– Hayden Scott on drums for both albums
If he has ever thought about creating a completely electronic album:
– Crystal Machete was almost completely electronic and that it was aimed to be his version of Aphex Twin's Selected Ambient Works Vol. II album because it's a perfect example of what ambient music should be for him
– after he moved from Los Angeles to Detroit years ago, he didn't work in his studio for 1 1/2 years
– when the studio in Detroit was ready, Crystal Machete was ready in his head, that's why he was able to record and finish within six weeks
– he prefers working in the morning, Crystal Machete six weeks were starting at 5:30 and finish at 4 in the afternoon
Recalling the four hour solo set at Moogfest in 2018, this is what Wes had to say:
– Set went from noon to 4 pm without possibility to pee in between
– a friend of his, Alex Rawson, joined him on drums
– one half shot of whisky before the set, one water bottle for the entire set; he took one sip at a time only so he didn't have to pee
– when he saw on his watch 90 minutes passed, he was like "2 1/2h left yet?"
– he never rehearsed for full 4 hours before, rather about 1h 10 minutes
– no setlist, he used a notebook for paragraphs notes for improvising, he didnt make it to the end of the notes by the time he finished the set and he said he could've played four more hours
– calls it the hardest but the most rewarding thing he has ever done, because you get in a trance flow when it goes that long
Big Dumb Face:
– christmas themed record planned to be done by christmas this year with original member and co-vocalist Kyle Weeks
– more Duke Lion is to come – spoiler alert: he gets reincarnated every time he dies and turns into a new person that is just as good hearted but has less power. Wes adds that it's basically to become worse and worse more boring and boring
Black Light Burns:
– new Black Light Burns with Travis Barker, he recorded all drums already
– Travis Barker's drum tracks were originally for another project, but Wes realized that this will be for Black Light Burns
– 22 songs with Travis on drums recorded; 17 songs to choose from for album
– Danny Lohner could be getting involved in the process for the new album again
– Wes will be working on the songs and do vocals then
– Wes isn't sure if it will be released this year and adds "whenever I finish lyrics and vocals"
– liked touring in a sprinter, setting up own gear and being in a small setting (band members + FOH engineer) – reminds him of what things were like in his earlier days
– he also remembers starting on time even if they were ready to start earlier
– he isn't sure if BLB will tour again
Goatslayer:
– started in his young days before Limp Bizkit
– two albums next week, 23 total to be released in the future
– 16 hours of music
about his time with Marilyn Manson:
– he was in the band for 8 months total back in 2008
– despite spending nights watching movies and going through Manson's book collection as inspiration, he wasn't involved in the writing process because Twiggy Ramirez just returned at that time too and Manson said it was going to be about Twiggy's inspirations
Limp Bizkit:
New album:
– there are at least 35 instrumental songs for the new album
– Fred works with different producers and has a mic setup at his house
– three more studio sessions since last time Daniel Carter was with them in the studio in Los Angeles (roughly three to four years ago)
– Fred finished vocals on several songs
– It will be the classic "picking 10 or 11 for a record"
– "It is slowly getting there."
other info:
– he regrets leaving LB the way he did in 2001 because he was a brag about it
– calls himself stubborn at that time and added that he made "terrible decisions out of emotion instead of logic"
– he told a story about Maynard Keenan (vocalist of Tool) pulling a dick move at the band at one of the shows of Ozzfest 98 when the two bands toured together: one day he came on set with a chair and book to sidestage for the entire set reading the book and as the show ended he closed the book, took his chair then went back backstage without having watched LB play
– when Daniel mentions that he and Wes have been talking about how each of Wes' stage looks describes a personality that starts to take over, Wes adds that he would behave in a certain way if he did a certain thing and it would grow more and more and that 80% of the stage looks is the costume chosen before tour and the remaining 20% of it a spontaneous decision before first show
Fred joined to watch the stream right before Daniel and Wes talked about the following two topics.
comparing Woodstock 1999 and Big Day Out 2001 to shows now:
– so large and they did not know what was going on
– stage was full of celebrities
– not as horrifying as Big Day Out 2001 (R.I.P. Jessica) ; then went on to talk about Big Day Out 2001
– Wes called Jessica's death as something "that stays in your heart forever"
– as for the Big Day Out show, he added: bad security, bad barricades (Fred at that moment via livestream chat: "BDO wasn't professional. We said we refuse to play because of security. Promoter insisted we go on or there will be a riot. Then….")
– Wes remembers someone throwing an acoustic guitar in it's case during one of the interruptions and the case exploded and opened up and John's drum tech at the time picked it from the set and Wes was just like "what is happening – this is insanity." he thinks that show was overwhelmed and badly set up and just a nightmare.
– they kept asking the crowd to calm down and back off during the show
Security at Limp Bizkit shows nowadays:
– nowadays LB are "super heavy handed" in terms of security such as correct barriers etc. in place
– there were shows after Big Day Out where he got stressed out because part of the barricade wasn't 100% safe and it made people freak out and panic and security would be holding barricades and it would cause him anxiety attacks
his decision to return to Limp Bizkit:
– when people including his idols whom he met and press went against LB over the years, it was like a turning point for him to return
– Les Claypool from Primus once said to him "once in a boyband, always in a boyband"
– Wes says he let idols words and actions control his feelings and actions, now he doesn't care as much because he knows what they are doing and it's not up to other peoples opinions, because LB is a controversial band that not many take serious.
he owns it and loves it and he is happy to be in LB
– he started really owning and embracing to be in and playing with Limp Bizkit after he played the 2 shows with Manson in 2008
– When somebody asked if Wes would ever join Fred on vocals for Limp Bizkit: "you never know but he'd have to get back to LA first" (in that moment Fred mentioned in the stream chat for fun that Wes would be doing all vocals)
about playing the last tour with two broken fingers:
– happened when he punched a door when he lost his temper
– shows were interresting
– he got the pins of the bones out 4 hours before the flight to Russia was due to take off
– LB songs are easy to play so he could play with 3 fingers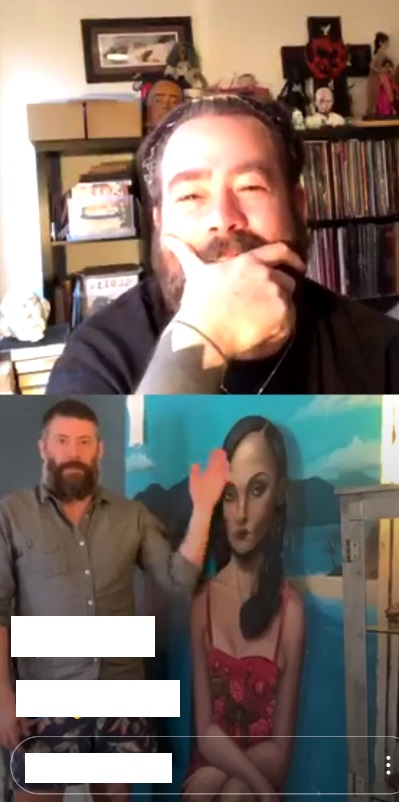 Painting:
– mostly varnishing and packing in Detroit, no painting right now
– artwork from eat the day album came from that, painted in 2016; it was not intended for Eat The Day at first
– he paints a lot of stuff and then he gets to a point where he doesnt know what to do with it
– he has enough paintings for a large art show. Plan for that was later this year, but the current situation is not allowing him to do it – pushed back for now
– he exhibited in group shows with other artists
– It might be in LA and he adds that he talked with Marilyn Manson about this and Manson advised him to put prices very high to give an attitude of never intending to sell – Wes also mentions Marilyn Manson being one of his favorite people
– he has 10 of large series paintings (6×4 ft; roughly 180x120cm)
– he doesnt know if he will sell outside of the planned art gallery show
– he doesnt know yet if he will do a clean house sale again like a few years ago including older guitars
– he will decide that after he moved out of the house in Detroit
Personal:
– he thinks many studio tracks have too much "production refinement" nowadays
– one of the main thrills for him to play shows is going into crowds – he doubts he will be able to go into crowds again for some time because of Covid-19
– his favorite frontmen ever are David Yow (The Jesus Lizard) and Nick Cave
– when asked what book he would recommend to someone he named Slapstick by Kurt Vonnegut
– first song he learned on guitar: Pipeline by Dick Dale
– dream collab: not particular person, but in general a film score with somebody
– once he gets interrupted in his studio work time, he has trouble getting the flow back
when asked what album off his catalogue he is most proud:
– he doesn't want to make a pick, it's like comparing music tastes for him
– most fun album in terms of writing and recording was Crystal Machete
when asked how he would warn his young self about the music business, he answered:
– better security set up at shows, not trusted locals security as much as they did back then so they could've put less people in danger
when asked about his favorite metal albums, he named these:
– Megadeth – Rust In Peace
– Carcass – Necroticism – Descanting the Insalubrious
– Metallica's first four albums (Kill 'Em All, Ride The Lightning, Master Of Puppets, … And Justice For All)
– Primus – Sailing the Seas of Cheese
– after thatn he was asked for his favorite album by Queens Of The Stone Age, to which he replied "Songs For The Deaf"
when asked about three people he would like to have meal with, dead or alive, he named:
– John Singer Sergeant
– Alejandro Jodorowsky
– he was joking about Hitler, but finally stated it "definitely not Hitler!" before finishing the list with
– Richard David James from Aphex Twin
– finally he added host Daniel Carter himself to the list, to which Daniel said "we need to do that" and that's how the second stream ended.
Listen to the full live chat here: