Date: 20th February, 2013
Location: Moscow, Moskva, Russia
Venue: Izvestiya Hall
Tour: Europe
Show #: 21 of 23
Other Bands: *,
Setlist:
01. Stop A Bullet
02. I Want You To
03. Mesopotamia
04. 4 Walls
05. Coward
06. It's Good To Be Gold
07. Splayed
08. Cruel Melody
09. The Colour Escapes
10. Lucretia My Reflection (The Sisters Of Mercy cover)
11. The Hate Of My Life
12. The Mark
13. We Light Up
14. Scream Hallelujah
15. Burn The World
16. How To Look Naked
17. Torch From The Sky
18. Lie
19. Your Head Will Be Rotting On A Spike
20. The Girl In Black
21. So Alive (Love and Rockets cover)
Source 1: Video – AUD (Unknown HD Camcorder) (Right Angle)
Taper: Unknown (megamozgus Team)
Time: 101:05 mins
Format: ? (1080p)
Comments: 720p version released on YouTube on January 20th, 2015. Master files are uncirculated.
Show Notes:
– Dennis broke his foot sometime before the show. He played the entire show on a sofa that the band put on stage.
Other Notes:
– This was the biggest headline show the band ever played.
Pictures (click to enhance):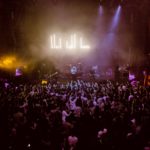 Videos: